I can not count the number of times a friend has called me up to ask me to go for a coffee. In Greece, coffee isn't just the drink that wakes you up. It's not just a bad habit that you need to quit, nor the 2 or 3 euros that you could be saving every time you get one. So you might ask what is Coffee in Greece?
First of all, coffee is a way to socialize. A way to enjoy, to appreciate, to be grateful. In the morning, when we wake up, we make ourselves the first coffee of the day. This coffee is to start the day. To wake up. The normal way to drink coffee. Sit, enjoy, and have a positive outlook for the day. Usually done with Greek Coffee. However, when we leave to go to work, the first thing we do is stop for a coffee.
Tips on Ordering Coffee:
Freddo Espresso – Cold espresso blended with ice
Freddo Espresso Glyko – sugar
Freddo Espresso Metrio – Medium sugar
Freddo Espresso Sketo – No sugar
However, it doesn't end there! To fully experience the Corfu Coffee Culture follow these tips:
Converse with someone until you have to leave, Greeks love to talk!
Drink it slowly! Make it last all day! We enjoy our coffee!
Every sip, feel the sense of release you get.
Now you are on your way to becoming a Corfiot coffee drinker!
There are a number of other coffees to choose. I may be Greek, but I can assure you that I am not being biased when I say that Greek Coffee is considered to be one of the healthiest coffee's in the world. On the island of Ikaria, their life expectancy is around 15 years longer than the rest of the world and the only difference they could find is that they drink Greek Coffee every morning.
Steps to enjoy a Traditional Greek Coffee
Making a greek coffee is very simple. You add a spoon or two of Greek coffee, sugar if you want and add water to the briki (small narrow neck pot for boiling coffee). Next, you let it boil on low heat, and right, as it foams up you, take it off the stove and pour it into your coffee cup. Now you can add a little milk or ouzo if you like as a sweetner.
For the Curious: My grandma would used to tell our fortunes by turning over the coffee cup after we were finished letting the melted coffee grounds fall onto the plate. The shape that was left in the cup determined our future. If you go to an old Kafeneio with old men I'm sure they would do it for you!
Making the famous Frappe
Frappe is the most popular to incomers to Greece. Most people will order this when they come to Greece.
First, you add Nescafe and sugar to a glass. Pour a little water just to cover the coffee and sugar. Then use the mixer to stir it, creating foam. Add a couple of ice cubes and fill the glass up with water. Now you can add some milk if you'd like. Add a straw and enjoy. If you don't have the electric mixer, you can shake it in something like a shaker, bartenders use to mix drinks. There is also the hot version of this that we call Nes. You do the same process where you stir the coffee and sugar but after you just at hot water and it is ready. No ice cubes though!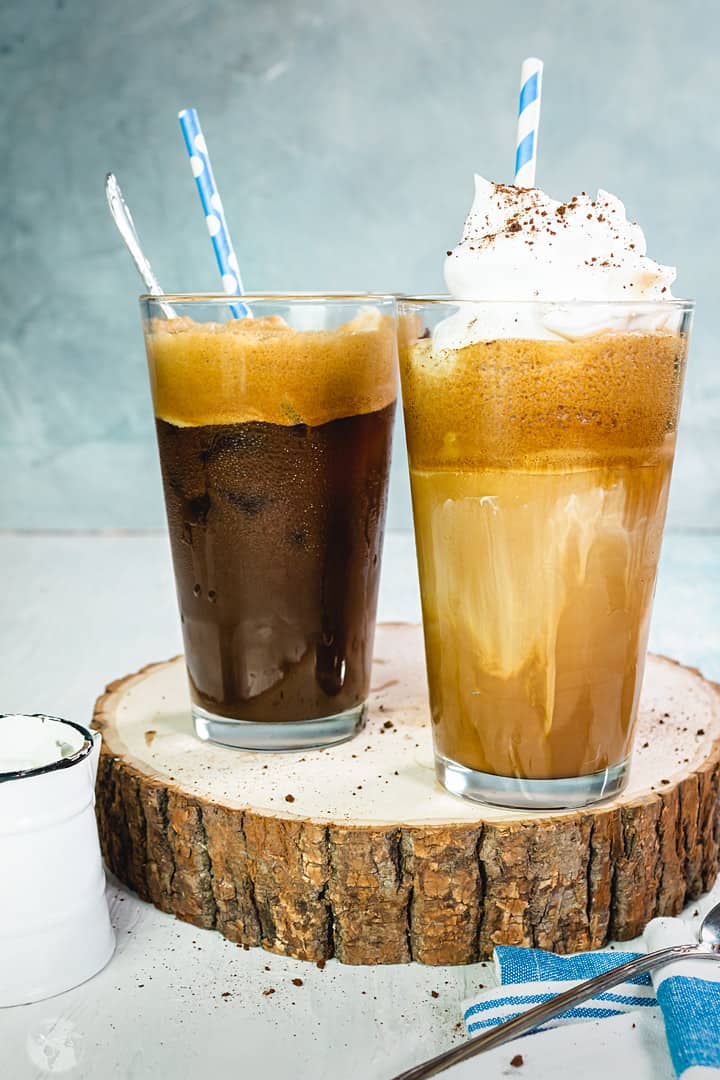 How to Make a Freddo Espresso/Cappuccino
Making a Freddo Espresso is also pretty simple if you have all the needed materials/tools. Make a double shot of espresso, pour it in a mixer cup with ice, almost filling up the cup. Add as much sugar as you want, then stir it with the electric mixer. Now, pour the cup into the glass you would like to drink it out of and enjoy! A Freddo Cappucino is basically the same you just add the frothed milk to the glass that you will drink it from. Some people put it before the espresso, some after.
Philotimo
More often than not Greeks like to go to the Coffee Shop and enjoy it there, with or without friends. We can sit there talking, drinking coffee for 2 or 3 hours. The mentality "going for a coffee" gives us is a relaxing, relieving stress feeling. Greeks like to take things slowly, it is in the culture. Sometimes this isn't the best quality though, like when you arrive for coffee at the arranged time and they arrive an hour late!
We have a word in Greece that also helps describe the greek mentality "Philotimo". "Filos" meaning friend and "timi" meaning honor. The simplest way to describe Philotimo since there is no direct translation is to always act your best for yourself and the people you represent: family, community, country etc. I'm telling you this because when you go for a coffee with your Greek friends, rarely will you leave paying. Greeks like paying for the people they care about. There's no keeping track either but it is definitely nice to return the favor!
You want to drink the best Traditional Greek Coffee?
Every coffee shop has its pros and cons. Depending on where you drink your coffee, inevitably it affects the price as well as many other things. If you are interested in drinking a hot strong Greek coffee, in every village, there is the village Kafeneios, where you will usually find old men drinking Greek Coffee. Sometimes, adding a bit of ouzo, which has a lot of sugar in it and it tastes good with Greek coffee. Most likely, they will be playing cards or backgammon, having a conversation that you will think is a fight. Visiting one of these Kafeneios is definitely a trip to the past, but they usually don't have many choices and if they have an espresso machine, chances are, it isn't good. So I would suggest drinking a Greek coffee attending these old kafeneios.
Interesting: Greek Coffee and Turkish Coffee are basically the same. The only difference is with Turkish Coffee the beans are roasted longer than Greek Coffee, making it darker. However, it originates from the Arabs.
Interested in going where the younger Greeks go?
Kafeterias are more modern, the workers speak English, they will have a better variety of choices and the espresso will be better! There are many on the main roads, so a con is the view but most do delivery. The price is fair and the service is quick. You can think of Kafeterias as a bar that is open all day.
As I already mentioned, Coffee in Greece is a big part of our culture, being more a way of socializing and taking a break. The choice is yours, there are all different kind of coffee shops with different styles and energies. One is there waiting for you to become their next regular! Greece is one of the only countries that you don't see too many big chain coffee shops everywhere like Starbucks.
Good to know
When you sit for a coffee at a Coffee shop they will always bring you a glass of water. Some places also a biscuit
Take away coffee is sometimes cheaper than dine-in coffee
Always signal your server to pay
Tipping is not common but appreciated
Here are a few different places that I recommend to try not only for the coffee!
Liston
Coffee in Liston, the center of Corfu Town is one of the most famous places to go in Corfu for tourists and also for locals. There are always many people. It has a unique environment, regarding nature, architecture, people's attitude, and the weather. Coffee is found everywhere but Liston offers so much more.
It's how so many, unlike people, gather in one area to enjoy the same thing. We may be different in so many ways, but there are still some things we all have in common, enjoying a coffee with our loved ones. From kids playing, priests wearing all black, couples holding hands, groups hanging out, and many more. You will have so many different feelings as you sip on a Freddo espresso, enjoying the present moment. I will warn you, whatever you get from Liston though, will be more expensive than anywhere else, but it is very much worth it to be apart of the experience of the "Liston Coffee Culture".
Spianada Square (where Liston is) is the biggest in the Balkans. It is also nice to get a coffee to go and drink walking around or to sit on a bench. The name Spianada comes from the Venetian word "open flat area".
If you are looking for a more quiet, less touristy area to get a coffee, it is very easy to find. Just walk around Corfu Town in the back streets and there will be multiple. These places in my opinion have better environments and make you feel more a part of the history. Not to mention, the prices are usually cut in half!
Mikro Cafe
Mikro Kafe is a small cozy cafe in the middle of the old town. Ironically, mikro means small in Greek. Having received many good reviews, it can get busy. It is on a very small alleyway so not many people are passing by and it will be mostly Greeks here. It will give you a weird sense of relaxation and a good atmosphere because of the people at the same time. In my opinion, it gives off this vibe, because of all the nature in the middle of an ancient city where usually it can't be found. Let me know what you think!!!
7th Heaven Cafe/Bar
7th Heaven Cafe is one of the most famous places to go for a coffee/drink while watching the sunset. It is a very unique place, with an amazing view of the sea. It is located in the village Peroulades, northwest of Corfu. In peak season, you will have to come 2 or 3 hours before the sunset to get a nice spot. It can get incredibly busy, so if crowds are a problem for you it may not be the right place. I do recommend going to at least take a quick pic on the famous glass edge balcony. It feels like you are in mid-air, so always make a good picture. There is always someone there to take a photo of you.
If there are no spots left, which is very possible, you can always get a drink to go and take the steps down to the beach for a more private experience!
The beach is called Loggas Beach, it is a nice small sandy beach where taking a photo from up above is unbelievably beautiful. The mountain wall is more clay than rock and makes it look very unique when the sun shines on it. Overall, it is a great place to enjoy a coffee at the sunset or not. Even though, at the sunset with fewer people is obviously more romantic.
Coffee Specialist
Coffee Specialist is a small Coffee shop on the main road in Liapades on the way to Paleokastritsa. This place is very popular with locals. If you are in the area you can call them and have the coffee delivered to you. They also have small snacks like "tiropita" cheesepies, "Spanokopita (photo below)" spinach pies, "milopita" apple pie, sandwiches, protein bars, and more.
They have fair prices and good customer service. The scenery is mostly trees and the main road but it is a great place to stop before going somewhere like the beach or a long drive. They have chairs and tables outside in case you would like to sit and drink the coffee there, which many locals do. They are open from 06:00 -20:00. During the summer, I like to get coffee from here every day. Everyone is very friendly so if you spark up a conversation Greeks always like to talk. Everyone usually knows basic English living on a tourist island.
Lakones
In the old village of Lakones, where you will see things that will make you feel like you are in a different era, there is also a place called Dolce Cafe. Dolce Cafe is a new modern Coffee/pastry shop. They make their own handmade ice cream and have one of the best views of Paleokastritsa. It is a great spot for some pictures being able to go up on the roof and enjoy your coffee there. It is more of a tourist place considering the new modern style and very nice view so if you are looking for something more low-key, it is just down the road.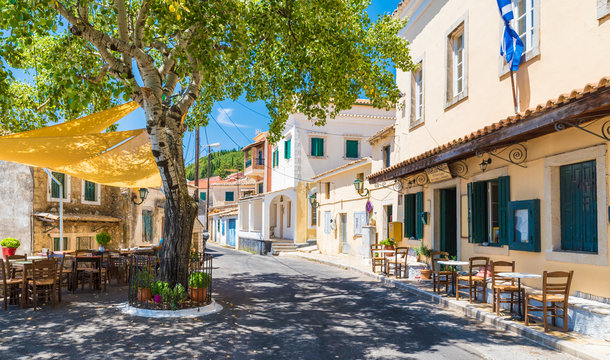 Right as you get up to Lakones and go down the small road there are a couple of different Kafeneios that I was talking about before. They are old-fashioned and still have a nice view. They don't have many people inside if not some old greek men having a conservation with an outside voice. Dolce has a very modern style with an exceptional view, where on the roof they have binoculars.
However, if more traditional places are your style then the Kafeneios down the road are also there to experience a more old greek style coffee, assuming you go at the times the old man also go. They will go mostly early in the morning and in the evening. Also, beware we don't say cheers with coffee, it is considered bad luck!