We all love going to the beach, falling asleep in the sun, waking up with a sunburn. Even better laying on a sunbed under an umbrella! Drinking a fresh Cocktail, reading your favorite book, or just enjoying the view. Then go into the water every couple of hours, when you are too hot, to cool off.
We all love this because it is comfortable. However, when we are there with our children it is a little bit different. They have fun differently. They have a tremendous amount of energy and want to play. So in order for everyone to be able to do what they want, some specific beaches can make your time more enjoyable. Here are the best family beaches in Corfu!
Glyfada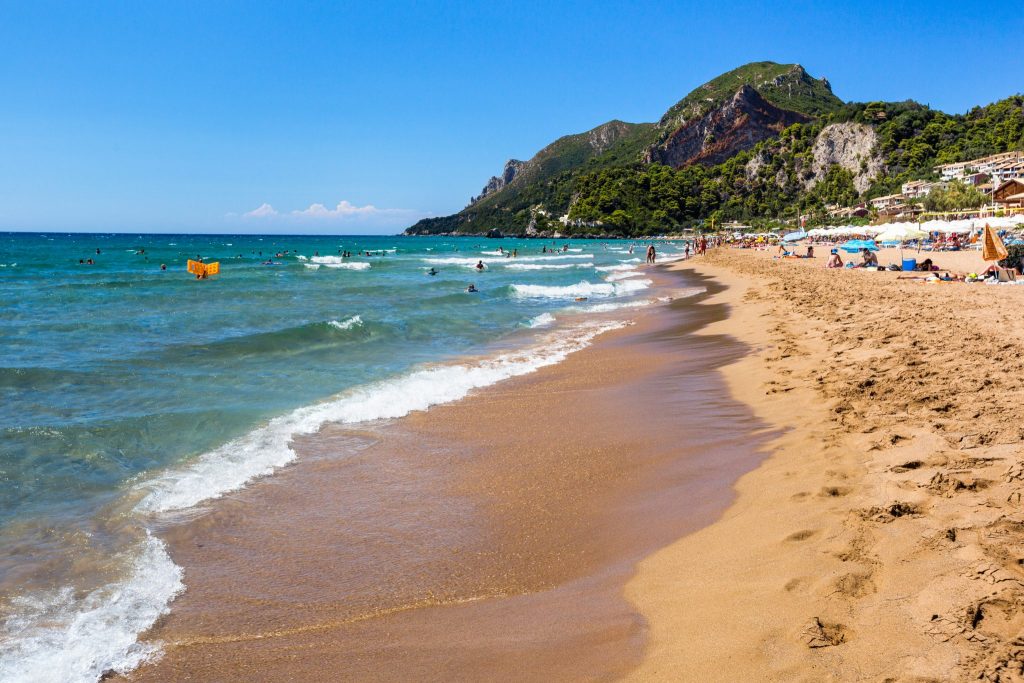 Glyfada is located on the West side of the island about 16 km from Corfu Town, next to the village Vato. It is one of Corfu's most popular beaches. With crystal clear water and the softest sand, you can find. Glyfada is a great family beach for many reasons…
First of all, when you arrive at Glyfada, the parking is very accessible. If you arrive early you will easily be able to find free parking close to the beach. Otherwise, you will still find it but you might have to walk a bit.
Next, there are many souvenir shops, restaurants, cafes, and public pools. All these options will leave you and your family happy. You can buy a few toys for your children to play with and some snacks for both. There are a couple of restaurants, but being at one of the most popular beaches it is obviously a little overpriced. Now, grab a coffee to go and find a set of sunbeds and an umbrella. So, there is a really nice high-class place called Pazuzu to rent a pair of sunbeds and an umbrella, but everything at this place is double the price.
So if you are on a budget then go to the next one or bring an umbrella and lay some towels down on the sand. This way you will be able to sit closer to the sea.
It is a sandy beach so you can let your kids play in the sand building sandcastles or trying to dig their way to China while you can relax worry-free. If they go into the sea, it is also nice because the water is very shallow. You can go 100 meters into the water and it will still be at your waist. Both you and your children are winners.
There is also a watersport company that provides many activities, such as tubing, parasailing, kite surfing, and more. It can be a good time for both the children and the parents.
Some of the cons are that in the middle of the day the sand will be extremely hot so make you wear shoes or sandals or be prepared to burn your feet. Also, as I said Glyfada is one of the most popular beaches in Corfu with many things to do so certainly the beach will be packed with many people.
Kontogialo
Kontogialo is right next to Glyfada and has almost everything Glyfada has. However, it is not as popular and not as big. It is just as sandy as Glyfada though, with shallow water for hundreds of meters. There are a couple of restaurants and cafes where you can also rent sunbeds at a good price. It is a great beach for children, they will have fun all day!
However, the parking is very difficult and the road to get down is terrible. Also, if you do find parking expect to pay 5 to 10 euros. Kontogialo is mostly attended to by the locals. The locals like it because it's not as many people, it is flat and they can easily play racketball. Here, although there are not many options for water sports. Therefore, this family beach in Corfu will help you feel like a local.
Agios Georgios
Agios Georgios is a big beach on the northwestern part of Corfu. Since it is really big it is easy to spread out and not be too close to other people. You will be able to keep a closer eye on your children. The sea here is also very shallow and warm so taking a dip is very enjoyable. There are many different water sports at this beach which can attract many different kinds of people.
There is also a long donkey path through the mountain that starts in Makrades to Agios Georgios beach. This would be a better option for active families with older children. Just click here Gaidouro-monopati – the donkey path.

Paleokastritsa
This list wouldn't be complete without the well-known Paleokastritsa. You can visit my blog Top 5 Places to Visit for more information on Paleokastritsa. Paleokastritsa has easy free parking that is close to the beach. The biggest reason this is a great beach family beach is for the adults! Having children you will obviously be carrying everything from the car to the beach then back to the car after a long day in the sun. So the parking lot, being very close to the beach makes it not as miserable as it is at other beaches.
There are plenty of restaurants, souvenir shops, mini markets, and cafes around. The view of Paleokastritsa is very unique, you can get many different beaches in one single photo from the village above, Lakones. The main beach is called Saint Spyridon beach. However, there are many more. The beaches are usually a mix of sand and rocks, so in some areas, it is not the best place for kids to play.
There are hundreds of boats that are available to rent, which is one of the best experiences to have in Corfu. They also have Pedalo's, a cheaper, less time-consuming, but still fun alternative. This gorgeous beach has the clearest waters, but also the coldest of Corfu! So you won't need a coffee to wake up! It also gets really crowded during peak season, but because there are multiple beaches around it will be possible to find a spot somewhere. However, if you want a lot space Paleokastritsa may not be the best option for you and your family.
Fun Fact: If you go to Corfuland.gr then press live you can see a live stream of Paleokastritsa Beach before you get there.
Agios Gordios
The last beach on the list is Agios Gordios. It is a lot similar to Agios Georgios. This beach is a mix between sand and rocks, but mostly sand. It is a very touristic area. However, because of the size of the beach, you won't have too much trouble finding some space apart from other people.
There are so many other beaches that are beautiful in other ways and I suggest them, but here are some of my choices for families because it will make their lives a little easier and more pleasurable.