Childhood
There is something about Corfu that I remember feeling since I was a kid traveling with my family every summer to spend it with my Yiayia (Grandmother). There was always such a distinct smell, right as I stepped out of the car in the village. It had a scent of history, culture, tradition, family, nature and so much more.   The years I spent there as a child, I can honestly say were my best.
Life as a 10-year-old child in the village is one that I wish every child to experience. As we played outside without phones or gadgets, we were still always able to find a creative way to entertain ourselves. The imagination of children has endless possibilities. We would play many different games, some that we learned, creating others. We would walk to the nearby villages to play football village against village. Sometimes we would even cause a little trouble by disturbing the old man that had a house in the square of the village. In the USA, as a child, I spent most days inside. So after living in Greece it was hard going back.
Marmaro
Marmaro, a very small village of maximum 200 people (now even less) is where I spent my time in Corfu. It is a very safe village where not too many cars pass. Our parents could let us go out to play and not worry about us until we came home late at night.
Even after leaving Corfu and living in the USA again, my heart was always in Corfu. I always had the desire to live in Corfu again as an adult and continuously sought out ways to make it come true.
Compare your Culture:
On 3 separate days during Christmas time as children, we would go door to door singing Christmas Carols. In return, we would get 1 or 2 euros.
Mandatory Military Service
Here in Greece, military service is still mandatory for all males 19 years old. Unless they get a postponement because they are going to university or something that cannot wait. The service is 9 months with a month of basic training. After, there is a couple of months of specialized training. After the specialized training, you will spend the rest of your tour working, some training sessions, and guard duty. Many Greeks do whatever they can to postpone their service. Many consider it a waste of time, a joke. However, it is only a waste of time if you don't learn something from it. If you pay attention there is always something to learn, including this.
Interesting Fact: Modern Greece has never invaded another Country, just defended hers.
Adulthood
After the military, you are looked at as an adult so it is time to find a job and start working. In the past years though, it hasn't been the easiest task because of the economic crisis. The unemployment rate in 2015 for 18-25 year-olds was 60 percent.
Those that worked?
The people that dared to find a job work every day during the season. That's right, rarely any days off. If that wasn't enough they would also work 1-2 hours over what their contract says and not get paid for it.
Corfu is a tourist island as you already know. Therefore, most of the jobs available are in the tourism sector of the economy. The most popular all year round jobs are plumber, electrician, mechanic, and supermarket. This is because in high school many of the boys choose to learn a trade instead of going to regular high school. However, because of how many people are in these trades there is not enough work for everyone so only a few will be lucky enough to work all year round.
Good to know:
In Greece, Sunday is considered a holiday. Many things do not stay open even Supermarkets and many petrol stations.
So for 6 months of the year during the tourist season, we work a lot, everyone. Usually, over 40 hours, I would estimate around 60 to 70 hours per week. Having worked in Greece and in the USA, I noticed that in Greece you work a tremendous amount at an unbearable pace, but you are still more active in your personal life, generally speaking. In the summer, you don't want to be inside. Maybe only in the middle of the day after lunch while you take your siesta. We eat lunch around 14:00 and it is typically the biggest meal. At this time it is the hottest, it can get up to 45 degrees Celcius in the sun. So, if you are not working and are not at the beach, continuously cooling off in the sea, you will be in the house taking a nap.
Also good to know: The restaurants in Greece will bring each plate out when it is ready, not altogether.
Enjoying
Days off rarely occur for us in the summer season, but if they do we take advantage of them! First, we will wake up casually and go for a coffee with friends for a couple of hours. Arriving back home to eat lunch and relax, then heading off to the beach until late evening. After this, we will go back home and relax or do whatever is needed. Soon after we will depart from the house for a long night at the bars.
Greeks though, are different than many countries in this sense. While living in the USA and knowing people from all over the world, I've noticed that most young adults will drink to get drunk. It is a part of the culture in America especially in the universities and can be very troubling. Here in Greece, however, we drink to socialize. When Greeks go out for a drink, we are usually on our best behavior. There is no drinking to intoxication because being drunk is frowned upon.
What about your country? In Greece, many Greeks won't leave the house until midnight or later for the Club.
Nature
Important Information: All beaches in Greece are public!
The nature in Corfu all year round is astonishing, Olive, Orange, Lemon, Fig, pear, Cherry plum, Kumquat, grapefruit, apricot trees, and much more are on the island. All ripening at different times of the year so you are never fruitless! If there are two things on the island that everyone has, it is olive trees and grape bushes. Olive trees for olive oil and olives. Grape bushes for red and white wine. Corfu is considered the greenest island in Greece. When you come you will understand why. For some reason, Corfu is not known for trekking, but I think it will soon become one of the popular activities in the low seasons.
Challenge: how many shades of green have you seen in Corfu Nature?
Since the weather is so nice and usually never raining, it will be hard to understand how it stays so green. We all have our own gardens with tomatoes, cucumbers, peppers, zucchini etc. With the soil that we have here and the different organic things available to use, it is a pleasure having a garden to watch everything grow.
Here's a story that will help you understand. My friend was eating a peach in his front yard and through the pit in the garden, 2 years later a peach tree started to grow!
Winter Life
So for 6 months out of the year, we are usually very busy with work and enjoying life. The other 6 months on a tourist island is a little boring… Only Corfu Town stays open. The tavernas, bars, supermarkets, tourist shops, accommodations, etc will close in the villages. Usually, one minimarket in each village stays open. For the most part, we do our big grocery shopping day that the supermarket. Not many bars, coffee shops, or tavernas stay open if it is not in the city, but it is possible to find 1 every couple of villages. These tavernas are gold to find during the summer because they typically don't have many tourists and can find some really good prices.
Where the locals gooo
One of the most popular Taverns we like to gather with friends and eat is Ladokolla. It is in the square of Temploni, a village not touristic at all. They have amazing food and space to enjoy Greek dancing.
It rains a lot in the winter, sometimes for days. So downloading a movie or watching Netflix is very popular. However, for many people, winter isn't a time for rest.
Not well known: Greece is known for its sunny blue skies, but not many people know it can snow in Greece. Up North, it actually snows a lot!
October, when tourism has died down a lot and many people are starting to close, it is also time to start the harvest of the wine. It is an all-year-round job to maintain the grape bushes, trimming, fertilizing, etc but when you test the homemade wine you will realize why many people continue to do it.
Harvesting Olives
By the time most people stop and finish their closing jobs when the season stops in November, it is time to start harvesting the Olive trees. This is a huge part of Corfu. There are over a million olive trees on Corfu that are still maintained. Harvesting the Olive trees is usually done every second year but needs to be maintained continuously.
It is not an easy job and that is why many people of the younger generation have stopped gathering olives for olive oil and just buy it from the supermarket. There still are many people though that do, using new modern ways to collect them compared to the older generations, which have made it easier, faster, and in some cases healthier. By January or February, either you have finished collecting the olives or you are too late. If there are any renovations that need to be done with our houses or businesses it will be started now if not already.
If you are interested: one of the oldest Olive trees in the world is in Corfu. Estimated to be 1200 years old. It is in Strogggili Corfu if you what to check it out.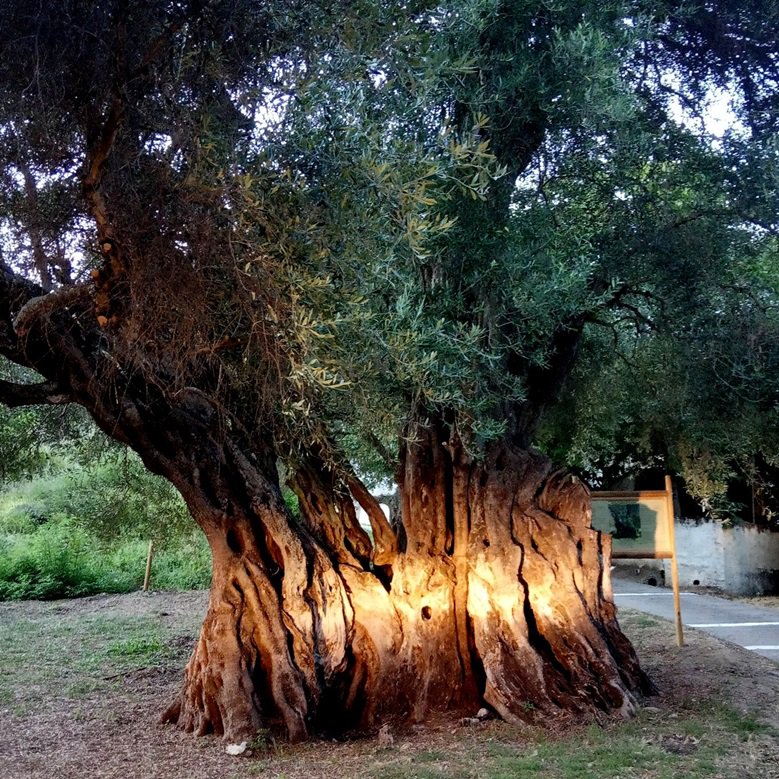 In February we have a holiday called Tsiknopempth, which means Grill Thursday. On this day, everyone will either go out or grill at home with a lot of friends and family eating basically only meat.
Quick tip: If you are here for Tsikno pempti and will go out to eat make sure you make a reservation!
It is the Thursday one week before clean Monday which is when we are supposed to stop eating meat according to religion, but not many people follow this anymore. Although, most people will stop eating meat for Holy week (the week of Easter) .
On Clean Monday, there is a tradition to go in a big open field fly kites, and have a picnic with friends and family. Different kinds of fasting foods are eaten on this day. By March, people are definitely starting to get ready again for the new season.
Corfu EASTER
Easter in Corfu is huge, in Greece it is huge. However, people from all of Greece will come to Corfu to celebrate it. This shows the importance of Easter in Corfu. Many things take place the week of Easter, here is a link of the common traditions and practices happening. https://theculturetrip.com/europe/greece/articles/greek-easter-traditions-you-should-know/
At every house, you will find eggs painted red, which is a sign of rebirth. We play a game where 2 people hold an egg and hit them together. The person's egg that doesn't break wins and is said to have good luck for the year. Saturday night at midnight is a very special night where we walk around the village with the priest. Eventually, stopping in the village square where we shoot off shotguns and fireworks at midnight.
Sunday is a day to relax and celebrate where we eat too much lamb and drink too much wine. It is an exceptional time for us and we like to enjoy it.