So you are coming to Corfu and you would like to propose to your significant other.  It is a memory that will stay with both of you forever.  Both of you will tell stories about it to your friends/family and at your wedding.  It is a very special moment, so I am sure that you want this to be exceptional.  However, not knowing too much about Corfu may be difficult so here I will give you some recommendations and ideas that may be able to contribute to this special moment in your relationship.  Check out this very romantic marriage proposal. Your dream marriage proposal in Corfu
Restaurants that won't let you down!
Probably one of the most traditional places to propose is while having dinner at a nice restaurant.  In Corfu, there are plenty of restaurants that will do their best to give you and your partner an unforgettable experience, not to mention they will have an incredible view, which always makes everything better.
Akron Beach Bar Proposal
Akron Beach Bar is in Paleokastritsa, Corfu at the Agia Triada Beach.  It is easily one of the nicest places in Corfu with a pool, sunbeds with pillows near the pool and on the beach.  The food is spectacular thanks to the chef and will be hard to find anything like it around.  For both lunch and dinner, it is open, although the dinner is fine-dining with gourmet food.
It is a little expensive, but well worth it for the view, atmosphere and the service that you will receive during your visit.  However, whether you would like to eat there for lunch, dinner, or enjoy the sunbeds you should definitely call ahead and make a reservation at Akron.gr is their website.  Be sure to check their website because during the summer they organzine different events such as live jazz music or evening movie night on the beach.
Drink Tip– Can't go wrong with the Birdie Num num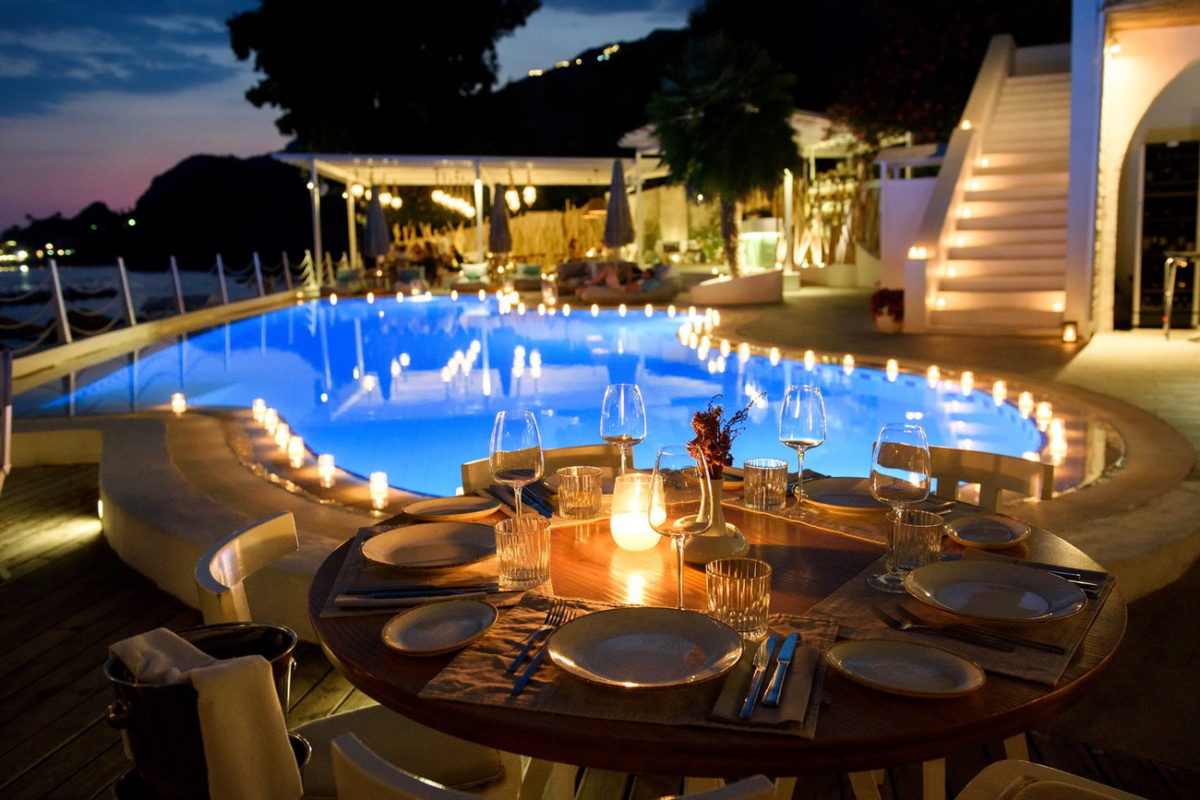 After the proposal, if you want to get really extravagant Akron also holds weddings/ceremonies.  You can rent the whole place or half the place out and invite your friends and family to celebrate with you.
To Kyma
To Kyma is a restaurant in Kassiopi, Corfu.  It is very similar to Akron with a view of the beach and sea.  The food is tremendous and has nothing but good reviews on trip advisor.
You can sit and drink a nice cocktail while enjoying the sailboats coming back to the port after a day at sea!
Ladokolla
Ladokolla is a traditional taverna, in the square of Temploni that is very popular with the locals of Corfu, especially in the winter.  Their style is very different from most places and it is not your typical tourist restaurant.  They also have live music on the weekends with a designated area to dance! Greek Style! 
Food tip: Everything is amazing but I found the mushrooms one of a kind!
For your information:  It does not offer a great sunset view or view of the sea, but the culture, design, food will make for a great non-traditional Marriage Proposal.  The owners are very friendly and will be happy to serve all your requests to make it a memorable night.
Romantic Views
Everyone loves an amazing romantic view. That's why combining two very special things is so common. We like to add pleasurable moments to other pleasurable moments. Proposing marriage during the sunset of an amazing view has been and will always be a popular way to propose. Here are some spots to make this possible.
Corfu Fortress
Walking to the top of the Fortress in Corfu Town might leave both of you out of breath! However, once you get to the top and are able to soak in the fresh air and the panoramic view of the sea and city you will be ready to make your move!
Obviously, it might make it more romantic if there are fewer people, but depending on when you go it might be difficult. However, you can use the crowd to your advantage and maybe ask someone to take a video to capture the moment.
Mon Repo Sunrise
Mon Repo is in Kanoni, a nice upper-class town right outside of Corfu Town. The Mon Repo is where the royal family used to live. If you would like to learn more here is a link to another blog that describes Kanoni and the Mon Repo more in detail. https://mycorfuexperience.com/5-places-in-corfu/
It is a nice place to go for a walk with a lot of shade and has a beach towards the back. The beach has a long straight strip of rocks where you can walk and feel like you are on the water. It is also possible to jump in or just rest there. You can also enjoy the sunrise here.
Idea!
If you and your girlfriend are early risers then you can organize to be there for the sunrise. There is a very good chance that you will be alone. This can set a perfect mood for a romantic environment where you can propose at ease.
Vlacherna Monastery
The Vlacherna Monstery is an iconic part of Corfu. It is also in Kanoni, for more information check out my other blog here https://mycorfuexperience.com/5-places-in-corfu/
There is another along pathway that you can walk on and be in the middle of the water. It goes from Kanoni to Perama.
Another Tip! You could wait for a plane to cross over your heads and when she turns around pop the question!
Kaiser's Throne
In Pelekas, Corfu there is an incredible spot where you can see the sunrise or the sunset. The panoramic view is one that no one can resist. Even famous emperors like Guglielmo II would come here to admire the view. The railing is famous for adding your own locket and engraving you and your partner's initials on it!
Loggas Beach
Loggas Beach is in the northwest part of the island in the village called Peroulades. Peroulades is most popular for the cafe/bar 7th Heaven. They have a glass balcony on the edge of the cliff which is perfect to take pictures.
Warning: It will get extremely busy during the sunset!
My advice
Either order a couple of drinks to go or bring a bottle of wine and head down to the beach. It will be a lot fewer people and you will still be able to enjoy the sunset.
Fewer people = More Romantic
It isn't a coincidence that people try to find places to be alone to enjoy each other's company better. It makes the occasion more special because you are the only two experiencing it at the moment. So here are a couple of places to go where you might be able to propose with no one or close to no one around.
Iliodoros Beach
If you and your partner like to hike Iliodoros Beach is about an hour-long hike. If you go more towards the evening it will be a lot easier than with the sun because there are some very steep hills that might cause you to sweat. However, it is a nice hike in the middle of nature. Bring a snack, a drink lay down on a beach towel, and enjoy the sunset listening to the waves of the sea.
On the way to this beautiful beach, there are small detours leading you to some amazing views where certainly you will be alone!
There are also some other wild beaches in the area, but it will be less likely you will be alone.
Lakones Panoramic
Lakones is a village right above Paleokastritsa in the mid-west of the island. Where you can witness some extraordinary views. However, if you like to hike and would rather the two of you be alone you can follow the old rock stairs up the mountain. Eventually, turning left onto a smaller path. This will lead you to the top of the mountain at around 500 meters altitude. Here you have an incredible view of almost the whole island.
Quick tip: Stop at Dolce on the way back down for some handmade ice cream.
One last thing…
We offer a very unique experience on the beach Iliodoros mentioned above. If you want a somewhat private romantic evening with your partner click here!