Welcome to the serene paradise of Corfu, where azure waters and breathtaking landscapes await you for an unforgettable canoeing or paddle boarding adventure. Nestled in the Ionian Sea, Corfu, also known as Kerkyra, is a captivating Greek island renowned for its lush greenery, crystal-clear waters, and rich cultural heritage. On the west coast we have the wildest beaches and the greenest mountains.
As you embark on your canoeing journey, you'll be greeted by the warm Mediterranean sun and a gentle sea breeze, setting the perfect ambiance for an idyllic day on the water. Whether you're a seasoned paddler or a novice, canoeing/paddle boarding on Corfu offers an experience suitable for all skill levels.
The coastline of Corfu is a treasure trove of hidden coves, pristine beaches, and majestic cliffs. Paddling along the north-west coastline,
you'll have the opportunity to explore secret sea caves, only accessible by water, and witness nature's artistic touch displayed in the stalactites and stalagmites decorating the cave walls.
As you venture farther from the shore, you'll encounter the mesmerizing Blue Lagoon, a natural pool of turquoise waters surrounded by rocky cliffs, perfect for a refreshing swim or a snorkeling expedition to discover the underwater wonders.
Keep an eye out for marine life as you glide through the gentle waves. Dolphins, sea turtles, and a variety of colorful fish often grace lucky paddlers with their presence, creating heartwarming encounters with the island's diverse wildlife.
Canoeing on Corfu is not only an opportunity to connect with nature but also a chance to immerse yourself in the island's fascinating history. Along the way, you might pass by ancient ruins, Venetian fortresses, and picturesque fishing villages, all contributing to the island's cultural tapestry.
The evenings bring a different kind of enchantment, as you can paddle out for a sunset canoe trip. Witnessing the sun's golden rays dip below the horizon, casting a warm glow over the sea, creates a magical and unforgettable moment, perfect for reflection and relaxation.
At Ermones beach they offer canoeing excursions, ensuring you make the most of your time on the water and offering insights into the island's ecology, geology, and folklore.
So, whether you're seeking an adrenaline rush or a peaceful communion with nature, canoeing/paddle boarding on Corfu is a blissful experience that will leave you with lasting memories of this Greek island paradise. As the sun sets on your canoeing adventure, you'll find yourself yearning to return to the tranquil waters and picturesque landscapes of Corfu, a haven for paddlers and nature enthusiasts alike.
Paddle Board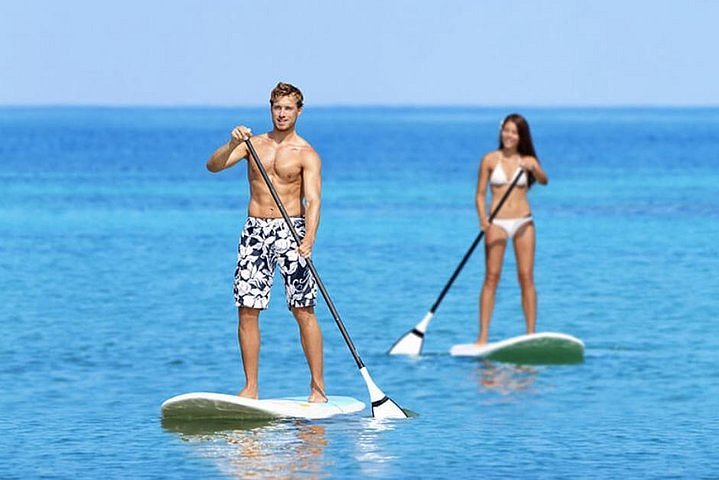 Paddle boarding is a full body work out and is more difficult than it looks. However, going around on a paddle board will give you a great sense of appreciation for the sea and a great work outl.
Canoes
Or canoe, another great work out and explore the sea, caves and places boat can't go at your own pace.
Jetski
or get an adrenaline rush on this fast jet ski!