Solo Traveling has been an up and coming trend before 2020 and it is expected to greatly gain interest in the next years. It takes a special type of person to travel alone, but once you do, I assure you it will be something you love doing. Corfu is a great place for solo travelers and we continuously get more and more every year. There are many positives to traveling alone and in Corfu, even more so.
You focus more on the destination
Gain confidence
Meet more people
Change plans last minute
Learn about yourself
Corfu is a safe, friendly, green, island where everyone is welcome. We get all kinds of travelers from both ends of the spectrum. We have extraordinary amounts of nature. Corfu is known to be the greenest island in Greece. Corfu Town is a UNESCO heritage site. In which case it is also a great destination for city lovers!
Just TALK!
For a number of different reasons talking while traveling is good. First, you will meet plenty of new people whether they are locals, or also traveling. Either way, you may form a lifelong relationship or just have a great one-time experience, but the worst thing that could happen is that they don't want to talk. Knowing more people will also inevitably make you safer. Being able to ask for help in difficult situations and having a reliable person by your side is essential while traveling alone. So just talk and always keep an open mind.
Fun fact: Corfiots are known for their hospitality and they are known to be talkers!
Here I will give you some tips on traveling in Corfu alone. Enjoy and be sure to let me know if you agree!
Meeting new people
If one of your goals in Corfu is to meet new people while experiencing what Corfu has to offer then here are the best ways to achieve that.
Dancing: Dancing is a great way to meet new people since it brings you closer together. There are plenty of different ways you can you this including,
Greek festivals– Greek dancing is a great way to bond and experience something new. Most of them are pretty simple and easy to learn. Just locking arms with the person next to you and following the steps that they take. At all Greek festivals, there will be music, dancing, drinks, and food so even if you don't want to dance Greek festivals are a pleasure to attend.
Dancing Classes– You can take a group lesson on a different kind of dancing that ranges from Sirtaki to Salsa.
Nightclub– Not the best place because they are usually crowded and barely anyone dances but still needs to be on the list.
Tours: Small tours is always a good way to learn about the culture and meet some co-travelers that share some interest.
Wine tasting- Theotoky Estate
Olive oil Tour- The Govenor
Beer festival- Corfu Beer in Arillas Corfu
Airbnb Experiences- hiking, cooking, meditation classes
Kumquat tasting- Mavromatis
Tour of CorfuTown
Going SOLO
If you would rather spend more time alone there are still many things to do! If you are in love with nature like I am then hiking is the best way to spend some one-on-one time with nature. There are plenty of donkey trails that lead to beautiful views. There is a Donkey trail from Paleokastritsa to Lakones. Donkey trail from Makrades to Agios Georgios. There is also the famous Corfu Trail, which many people don't know about.
Corfu is usually not considered a great destination for hiking, however, the Corfu trail makes this statement completely false. Every year hiking in Corfu is becoming more popular, especially the Corfu trail. It is an easy very long hike at 220 km that is for all ages and you can do it all year round, but most people choose in May and October because the weather is mild and the prices of the accommodations or a better. So if you are a hiker become a Corfu hiker and check out the Corfu Trail.
Not only are there these amazing paths in nature to enjoy with stunning views, but also there are many wild beaches. Here, you can forget about big crowds, hotels, taverns in your view and just enjoy different shades of green and blue.
One of my favorite hikes that doesn't take too long is in Doukades. It's to Agios Simeon which is a small monastery on the top of the hill. From this monastery, you have a view for kilometers.
There is a story behind this monastery. Once upon a time, a girl would come up to this mountain before there was a monastery. One time she found an icon of Saint Simon. She took it back to her house and when she went up to this view the next day…. The painting was there again. After this they decided to build a monastery here.
If you want to get out of nature and more be amongst people but still do your own thing some interesting places to go visit are…
Old Fortress– https://mycorfuexperience.com/5-places-in-corfu/
Achilleon– Palace now a museum in Gastouri, built for the Empress Sisi. https://atcorfu.com/corfu-achillion-palace/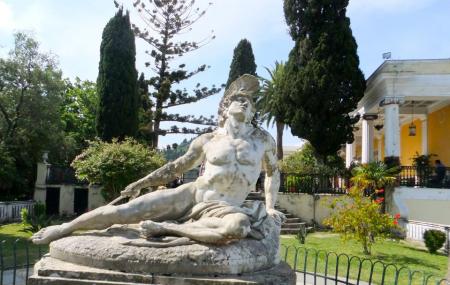 Dolce– In Lakones with delicious handmade ice cream with the best view of Paleokastritsa
Kaisers Throne– Sunset panoramas in Pelekas!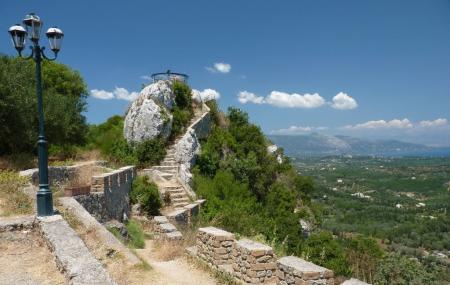 Where should you stay?
This is a big question and depends on many things. First, do you plan on renting a car? If you plan on renting a car then your options increase dramatically. I would recommend staying in the Paleokastritsa-Liapades area. This is because you can find some small studios for good prices, there are a variety of taverns around. From touristic to where the locals go. There are so many different beaches, some of which will make you rent a boat or take a tour, but believe me, there is no better experience than witnessing Corfu from the sea!
Some people are a little small-minded, and occasionally get called "villagers"… but everyone is still really friendly and hospitable. It is also in the middle of the island so it is a good place to be your base. Some days you can stay in what I consider the most beautiful area in Corfu just relaxing at Rovinia Beach.
Other days you can travel to the North of the island and see what all the hype is about Porto Timoni!
Then at the end of the day come back to your airbnb.
The next day go down to the south and find out why they say the best fish come from Boukari.
To the point!
The point is if you are traveling alone, have a car and want to do some traveling in Corfu instead of staying by the pool with a cocktail all day, Liapades is in the middle of the island so you can reach everywhere the easiest. More importantly, it has some astonishing views and beaches.
NO CAR?
On the other hand, maybe you can't rent a car for some reason. So now where can you stay? If you are traveling solo you might not think it is worth renting a car and think you are not in a rush so the bus will be fine. The bus service in Corfu is decent, so if necessary I would recommend your base being in Corfu Town. It may be a little more expensive but here is the bus station so all the buses go through here. You would have to come through Corfu Town a lot anyways, to switch buses, so why not stay there? Click here to see the timetables
Not to mention it is a very beautiful city, built by the Venetians and there is plenty to do. https://mycorfuexperience.com/5-places-in-corfu/
Important
There will always be many things to do traveling alone. You will be able to do want you want when you want not having to worry about anyone else's interest. I have a friend that has a passion for traveling alone and does it frequently. She has told me that it is not always where you go and what you do, but more the act of traveling, the journey.
I have lived in the USA and Greece. They have two very different ways of life. This has helped me look at so many things differently, I can't wait to start traveling to continue to learn about the world and about myself.
As long as you have an open mind and good observation, my opinion is that traveling is the best investment in yourself money can buy.
If you need any other information or help with your stay in Corfu, please don't hesitate to contact me.
Feel free to visit my Instagram page where all the places I go are perfect for your solo travelers thirsting for an adventure! https://bit.ly/3twJeev
"A good traveler has no fixed plans, and is not intent on arriving." – Lao Tzu
"One's destination is never a place, but a new way of seeing things." – Henry Miller